Se hospede no Safestay Hostel London Elephant & Castle e você irá encontrar o Big Ben, as Câmaras do Parlamento, London Eye, Oxford Street e Praça Leicester todos a menos de 15 minutos de metrô. O Tate Modern, Teatro Nacional, Imperial War Museum, Aquário de Londres, London Dungeon, Globe Theatre de Shakespeare, Kia Oval e a famosa Ministry of Sound ficam todas a menos de 1.5 milhas da propriedade.
Localizado no centro de Londres, nós estamos a uma curta caminhada do London Eye, Ponte da Torre e London Dungeon. A estação de metrô London Bridge e Borough Market, uma das melhores e maiores feiras de alimentos em Londres, ficam bem na nossa porta. Você também pode fazer um passeio pelo Rio Tâmisa e além, indo até a Catedral de São Paulo, o Museu Tate Modern, OXO Tower, Gabriel's Wharf, British Film Institute, Southbank Centre, London Eye e as Casas do Parlamento.
Estive lá duas vezes e volto, é muito bem colocado, limpo e não muito caro. As camas são muito confortáveis, os quartos agradáveis e os funcionários muito simpáticos. Só lamento não ter como cozinhar ou armazenar sua própria comida, mas, ei, isso não é o mais importante, porque há lojas e restaurantes em todos os lugares e você sempre pode comer no hall de entrada. Eu recomendo 100% !!
ótimo albergue onde você pode fazer ótimas reuniões, bem localizado e ideal para pequenos orçamentos.
Nós ficamos com nossos 2 netos. Tudo correu como planejado. Sala 4 correspondeu às nossas expectativas. A equipe competente e jovial deu-nos o conselho que esperávamos. Quase nada de errado, pelo contrário.
excelente hospitalidade, quartos e banheiros são limpos, camas confortáveis.
Hostel muito limpo !! Excelente quarto, chuveiros e banheiros são bem mantidos, nada a reclamar. a equipe está lá para nós. Único ponto negativo, o preço do café da manhã é muito caro ...
Para a estadia curta, eu fiz este albergue me serviu perfeitamente. Localizado perto do centro de Londres, permite visitar a cidade a um custo menor. É o local ideal para passear.
foi excelente
Extrêmement bruyant pour une famille avec enfants
Muito bem-vindo, apesar de uma chegada tardia (2:30 am). A equipe é muito agradável e sorridente. Nice room, limpo, bem como o banheiro. Ofertas agradáveis para o restaurante e o bar do hostel + entretenimento musical todas as noites. Nós tivemos uma ótima estadia!
A pousada está bem se você não se importa dormir em 3 a 4 camadas beliches. A localização é bastante conveniente bem localizado no centro de Londres, a uma curta distância da estação de London Bridge é muito perto do London Bridge Borough Market. Há também um bar no andar de baixo, onde você pode definitivamente encontrar muitas pessoas. O bar e albergue é frequentemente frequentado por companheiros de viagem e jovens, então espere que seja um pouco barulhento e barulhento na madrugada da manhã.
Localizado no coração da cidade, nós ficamos a uma curta caminhada do London Eye, Ponte da Torre e a maior feira alimentícia de Londres, Borough Market. Com o albergue a 2 minutos a pé de DUAS estações de metrô, circular pela cidade não leva muito tempo.
Torre de Londres fica a 1.1 km, enquanto a Torre de Londres fica a 1.2 km de distância. O Aeroporto da Cidade de Londres fica a 10 km do nosso albergue. Southwark é uma ótima escolha para viajantes interessados em passeios pela cidade, monumentos e cultura.
Ótima localização, bar logo abaixo do albergue, um pouco barulhento
Tenha uma boa estadia A pousada está muito bem localizada em comparação com o centro da cidade de Londres
O hotel está em ótima localização, ótima comida, bar descendo escadas, Nice e reformados banheiros. Simpática equipe também!
A pousada é muito limpa. Há um bar no andar de baixo. Grandes armários disponíveis para guardar sua bagagem com segurança. O café da manhã é agradável. Vale a pena gastar e ficar aqui.
Eu tive meu computador roubado em um quarto misto com 12 camas. Por 10 € mais a noite eu poderia ter um quarto para 2 e mais seguro. É em parte minha culpa. A coisa que mais me incomodou foi que as pessoas na recepção não fizeram nada, não fizeram nada para me ajudar, foi realmente covarde e desonesto.
A propriedade era muito limpa. Adorei a localização, bairro muito agradável, gostei de caminhar. A equipe foram atenciosa e amigável. Obrigado.
Limpo e confortável camas, ótima localização, nice staff, boa comida e localização. irá recomendar.
Hostel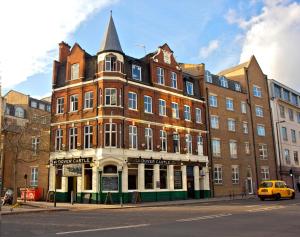 Welcome to The Dover Castle Hostel and Bar, providing backpackers and students with great value accommodation and entertainment since 1985. Whatever your circumstances, we will supply you with all you need to experience the best of London.nnValue rooms starting from...
Hostel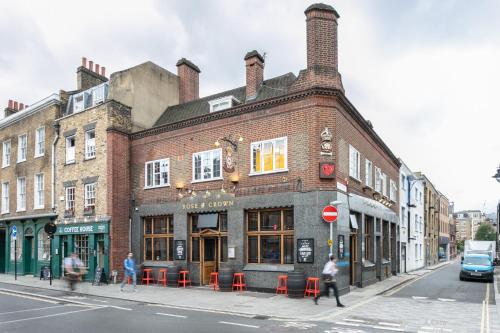 Publove @. O The Rose & Crown in London disponibiliza acomodações apenas para adultos, um restaurante, um bar e um terraço.
Guest house
Este boutique hotel de estilo hispano-americano está situado em Camberwell e dispõe de fácil acesso ao centro de Londres, de autocarro. Possui acesso Wi-Fi gratuito, um bar de self-service e quartos atractivos.
Hotel
O City Hotel London providencia acomodações modernas ao lado da Estação de Metro Borough e a 5 minutos a pé da Estação Ferroviária London Bridge. A Ponte da Torre de Londres fica a 10 minutos a pé da propriedade.
Landlords and property managers
Registre agora o seu albergue em nossa novíssima Extranet.