Bem do outro lado da rua fica o Metrô de Londres, que nos conecta com os melhores locais e atrações turísticas como Westminster (a apenas 20 minutos de viagem de metrô).
Nós estamos do lado oposto do maior centro comercial da Europa, a uma conexão direta do Metrô de Londres até a Oxford Street e a uma curta caminhada do Notting Hill's Portobello Road Market.
Estrutura agradável com um excelente bar para o café da manhã.
A área da cozinha é pequena, mas as cortinas fazem espaços realmente privados para as camas.
Tudo é perfeito, por outro lado dormitórios sendo colocados acima de um bar / caixa não deve ser um sono leve.
Muito boa pousada com uma equipe super agradável e sorridente.
....
Bom valor para o dinheiro, quarto e banheiro - WC comum limpo, acesso seguro com presença de pessoal 24h / 24h, ao pé do metro com linha direta para o centro de Londres, café da manhã muito decente incluído no preço do quarto, acesso a um terraço com possibilidade de churrasqueira (acesso limitado para a tranquilidade de outros hóspedes à noite).
Uma equipe muito acolhedora, muito bons hambúrgueres (servido com deliciosos chips de batata-doce), café-da-manhã variado e café-da-manhã. O metro fica mesmo em frente e oferece fácil acesso a muitas áreas de Londres. Quanto à atmosfera "pousada da juventude", nos deparamos com um período de baixa afluência de jovens. Ligeira decepção que não depende do próprio hostel.
Casa perfeita, pessoal muito simpático e sorridente
Localização perto de tubo, compras e opções de refeições.
É facil se locomover por Londres usando as conexões de transporte público por Hammersmith, com linhas de ônibus e metrô para acessar todas as partes da cidade. Pegue o metrô direto para o Aeroporto de Heathrow ou faça uma rápida viagem na outra direção para South Kensington, onde você pode visitar famosos museus, ou Westminster para ver as atrações tradicionais.
Boa situação perto de transporte, bons benefícios em geral.
Auberge sujo e não acolhedor
Básico e direto. Capaz de deixar a bagagem durante o dia sem confusão.
Boa pousada, prático, barato para Londres
A coisa que eu mais gostei e gostei foi a sua localização.
Guest house
Este hotel situa-se a cerca de 800 metros de estações de metro, a uma caminhada de 5 minutos do O² Shepherds Bush Empire e da animada vida nocturna. Exibe quartos com acesso Wi-Fi gratuito e a possibilidade de efectuar o...
Guest house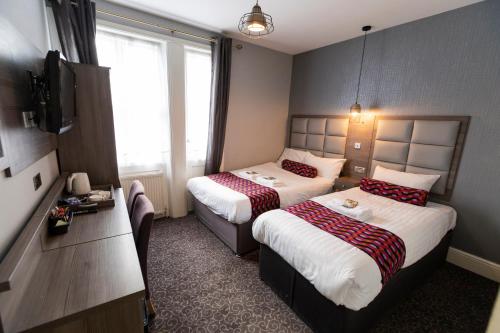 O Euro Hotel, em Hammersmith, é um alojamento de acomodação e pequeno-almoço de 3 estrelas com acomodações luminosas e arejadas.
Guest house
O Comfotel BLU está situado em Shepherd's Bush, em Londres, e fica a menos de 0,8 km da Estação de Metro de Hammersmith. Possui uma recepção 24 horas, acesso Wi-Fi gratuito e serve um pequeno-almoço continental todas as manhãs.
Guest house
O 23 está localizado na área oeste de Londres, apenas a 5 minutos a pé da Estação de Metro West Kensington. Dispõe de quartos com uma casa de banho privativa e de acesso Wi-Fi gratuito nas áreas da recepção.
Hotel
In West London, 0.5 miles from 5 Tube stations, Comfotel PRPL offers en suite rooms with free Wi-Fi. With free parking at evenings and weekends, theatres and bars are just 5 minutes' walk away.
Landlords and property managers
Registre agora o seu albergue em nossa novíssima Extranet.